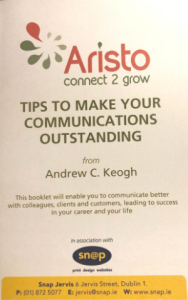 The handbook "Tips to Make your Communications Outstanding" by Andrew Keogh is ideal for making presentations, public speaking or for improving your pitching skills and communications generally.
It contains information on how to:
Quickly build rapport with your audience
Learn the fundamentals for better communication
Prepare effectively for your speech or presentation
Deliver openings that get your listeners attention in 20 words
Learn techniques for closing your speech or presentation
Handle Q&A sessions
We can forward  you as a soft or hard copy or both.
This handbook is pocket sized and is ideal to keep in your car or briefcase so that you can review before  your next speaking opportunity.
To receive your FREE handbook entitled:
"Tips to Make your Communications Outstanding"
by Andrew Keogh, please enter your details below:
Start a Coversation
If you want your audience to listen, engage and take action - Let's start a conversation